No results were found for the filter!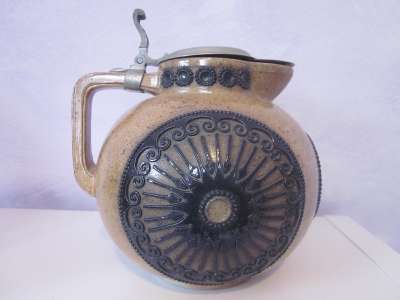 Merkelbach tall ceramic pitcher 2093 design...
A beautiful Art Nouveau ceramic pitcher by Reinhold Merkelbach / Grenzhausen - Westerwald. Designed by Paul Wynand in 1908, form number 2093 (can be found in the literature). Marked underneath as can be seen on the photo. The stamp was...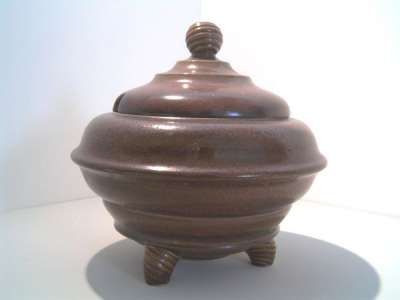 Bowl Reinhold Merkelbach
Art Noveau bowl, made around 1915 by Reinhold Merkelbach, Höhr-Grenzhausen/ Westerwald. Cologne-brown salt glaze with orange decor freckles. Height 12.02', max. diameter 12.60'. Underneath with impressed form number 3469 plus...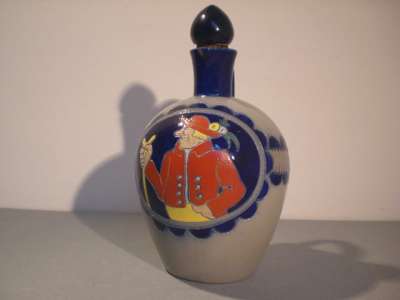 Brandy bottle Ludwig Hohlwein - Reinhold...
A brandy bottle by the manufacturer Reinhold Merkelbach / Höhr - Germany. Design Ludwig Hohlwein , around 1910. Marked underneath with engraved model number 714/4. Height 21 cm/ 8.3'. Bottle stopper unfortunately glued, this is why the...
Big wine can Reinhold Merkelbach - Werkbund-stamp
A big wine can by Reinhold Merkelbach / Höhr - Germany. Around 1910. Brown salt glaze with relief decor. Pewter lid. Total height 8.66', diameter 6.30'. Underneath with impressed Merkelbach-stamp, form number 3101 plus Dürerbund-/...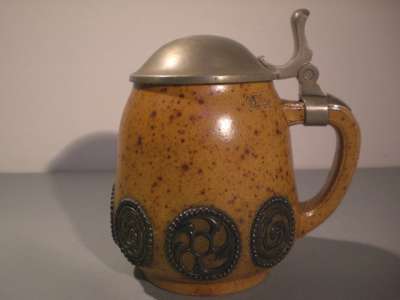 Beer mug Merkelbach - design Paul Wynand
A superb item for all collectors of German Art Noveau ceramics! This beer mug was designed around 1908 by Paul Wynand for Reinhold Merkelbach / Höhr - Germany. Model number 2096, marked underneath with impresed manufacturer stamp. Height...