No results were found for the filter!
Van Daalen ceramic vase 70s teal rare colour...
A ceramic vase by the importan German maker Fritz van Daalen. Around 1970. Marked underneath, but very hard to see (not easy to take a reasoable picture of it). It measures: height 18.5 cm/ 7.28" Perfect condition, completely free of...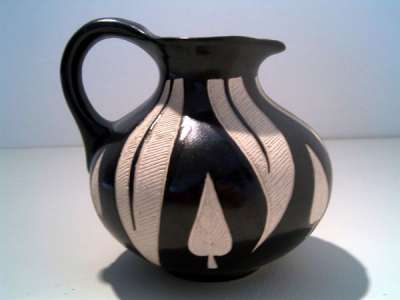 Jug vase with leaf relief
A black jug vase with laboriously engraved leaf decor. Presumably made by van Daalen, around 1950. Underneath with form number '5/3 Dek. 1a Gy'. Height 5.12'. Excellent condition free of damages, no visible traces of use.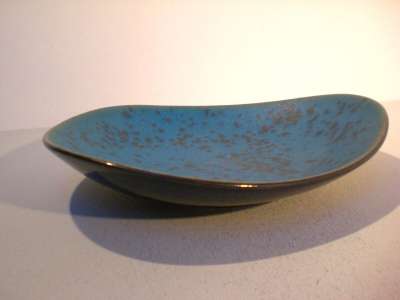 Blue bowl in organic design - Fritz van Daalen
A bowl in interesting organical design - made by the potter workshop Fritz van Daalen. Red clay, with matte blue glaze and dark-blue freckles. Widt approx. 10.2', depth 8.7', height 2.4'. Unmarked (which is not unusual), with vintage...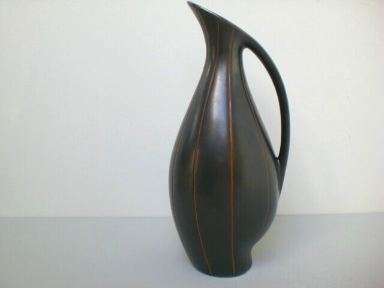 Asymmetrical jug vase - Fritz van Daalen
An unusual asymmetrical - by Fritz van Dalen / Aalen - Germany. Designed 1956. reddis clay, with nicely-done dark-brown glaze and engraved vertical decor stripes. Marked underneath with K14/8 plus workshop sign. Heigt 10.7'. Excellent...
Vase with double-handle - Fritz van Daalen
A double-handled vase with rich red glaze, made by Fritz van Daalen / Aalen. Around 1970. Height 6.50'. Marked underneath with van Daalen-sign plus engraved form number 161/15. Excellent condition without damages, no traces of use - and...